First, let's answer the question, are GIF's dead?
They debuted in the original internet days (90's) and have been around the whole time but in recent years, when our social feeds are feeling pressure from both image and video content, GIF's are making a comeback as the ultimate short attention span grabbing a combo of visual stimulation (image + video). There are enough movement and message to draw interest, but the file size and attention required to get the whole message across is contained within 2 seconds. And yes, under 2 seconds is an important factor, especially because more and more content is being viewed on mobile devices and load time is a precious commodity.
And in case you've been living under a rock, a GIF is a mini video, with no sound, that can be watched from start to finish in as little as one or two seconds in a simple, auto-looping fashion.
Like this:
GIF is actually the shortened version of Graphics Interchange Format, but that's really boring and we're not going to get into that here, you can look that up on Google when you don't need to make a GIF in minutes!
On the computing side, GIF files are much quicker to upload than videos, so they're web page friendly when page load times are critical to content success.
GIFs offer a much more convenient, faster and totally silent way to express something. It's the perfect combination between image and video that really captures our attention.
Why use GIF's for your Business Marketing?
Tumblr started out as one of the biggest drivers of GIF sharing; a form of pop culture and news spreading. It definitely wasn't the hub of business interaction but rather a great way to convey emotions of pop culture and current events. The concepts and popularity grew as people saw the influence and convenience of spreading viral messages in one simple image. Twitter was the next large user of the GIF format for quickly creating visually impelling content in short snippets. As data continues to show, GIF's catch attention, draw reactions and have higher rates of viral activity on social media.
Sounds like a good reason to use them in your business marketing, doesn't it? Creating a short video image that catches attention and engagement is the recipe for attracting attention and gaining exposure. For this reason, GIF's are a great tool for your marketing department to experiment with both the general popular culture as well as in quick customer service and customer training tools as well.
Ready to start making GIF's? 
Step 1: Pick Your GIF-making software
Online GIF makers require an internet connection, but GIF making software and GIF apps can be used with or without an internet connection.
Select from these GIF-making tools:
Free Online GIF Makers:
GIFs.com – Easy to use, sign in with your own account. Upload your video or pictures and then add some finishing touches.
Andtheniwaslike.co – Want to make a meme of your own face or expression? This GIF maker records a mini video of you from your camera, which you can then annotate and add editing enhancements. Perfect for a GIF reply or comment to a post or to keep your GIF's personal.
GIF Making Software:
Screen to GIF – This software functions as a simple Windows application, one that makes GIF creation extremely easy and handy to keep on your desktop or laptop if you need to make a lot offline.With ScreentoGIF, they've laid it out so that you just download the software and then select one of these options:

Recorder, lets you pick a region of the screen to record
Webcam lets you record GIFs using your computer's camera
Board lets you record yourself drawing.
Editor lets you edit existing GIFs.
Select ScreentoGIF if you're a Windows and Microsoft Office user.
RecordIT – This software is solely for recording from your own screen.
Download the software and click Record, and pick a region of the screen to record.
When the recording is done, click the resulting notification to see the result online.
Easily share your creation, or download it for future use.
GIF Making Apps:
GIF Toaster App – iOS on iTunes Store. Easy upload but you may have to
GifBoom App – GifBoom's popularity can easily cover up the fact that their interface can be confusing and cluttered. One of the first GIF creators to hit the market but might not have everything you need.
GIF Me – This is a great Android application that lets you quickly record a GIF and share it with anyone. You can also import videos or put some photos together to make a slideshow GIF.

Step 2: Build Your Content
Deciding what message, what imagery and what emotion you want to convey with your GIF can get complicated if you want to try and get a lot of information across in a couple seconds. Get inspiration from different meme sites (Giphy.com etc) and also do a quick google search on viral memes. Current news is also another way to add popularity and give relevancy for a quick social media campaign. If you're using a GIF for your business marketing, make sure you use clips or images that you have the rights to. If you post someone else's GIF, you need to cite your source!
Pick a Meme Theme. (Meme Theme = Pictures + Words + Emotion)
Build your pictures out of your own/free videos and images
Add your message and select a "meme-style" font.
Preview your masterpiece, does it make you laugh, cry or think?
Film edits: You can create a more dramatic message by editing speed, colors, annotations and additional emojis to your work.

Step 3: Post Your GIF
How to Post a GIF to Facebook
Paste the URL of your GIF into Facebook's the "status" field on your facebook account or page. That means only GIF's made online, with a URL will work in Facebook. Uploading an animated GIF from your computer using the Add photos/video function does not work at the time of this posting. Often your GIF won't auto play on Facebook, one workaround has been to post your GIF in Tumblr and then use that URL to post into Facebook to get the autoplay mode otherwise you'll just have a big GIF button in the middle of an image and Facebook browsers will have to click it to see the entire GIF which is not optimal for the general population who are quickly scrolling through their feeds.
How to Share a GIF on Instagram
First, you'll only be able to post to Instagram through a mobile device, so upload or send your file to your device first.
Select your GIF file from your device instead of selecting a photo. (The button to the left of the shutter opens your photo gallery or camera roll – select your file from here)
After selecting the GIF file, you'll have to crop the image to the required size for Instagram, then you can apply an optional filter.
Make sure you put lots of great hashtags to make sure your GIF gets further than your own audience.
How to Add a GIF to your blog post on WordPress
For some reason, embedding a GIF into a blog post on WordPress seems to cause a lot of bloggers headaches! There are workarounds, but I'll say the easiest way to add a GIF to your blog posts is to add the plugin: Giphypress. This plugin makes it easy to add GIF 's to your post without a bunch of fiddling around. It adds a new button to the post editor and helps you discover new GIFs to use from the Giphy website. Just remember – it's tied in tightly to their site and it's not designed for directly uploading your own GIFs.
If you want to add your own GIF to your post, do it this way:
*When you upload Media files into WordPress, it adds the image to its database and creates different-sized thumbnails of it.  These resized thumbnails are always JPG still images. If you upload a GIF, WordPress will create resized JPG thumbnails, not resized GIF thumbnails. To embed one of those resized versions in your post you'll end up with just an image.
All you need to do to fix it is to make sure that you don't use one of the resized thumbnails, select "Full Size" for the image size and it will use the original GIF file you uploaded.
How to Post a GIF on Twitter
Giphy has partnered with Twitter to be able to post directly right from their site.
To add your own GIF to a Twitter post,  after you have saved a GIF to your computer, you can select and upload it the same way you would a regular image. Note, you'll only be able to upload one GIF per post.
GIF's are a great addition to your marketing efforts and the great part is that they don't take a lot of time and editing to create. Now's the time to experiment with these tools and use this marketing tool to creatively share your content.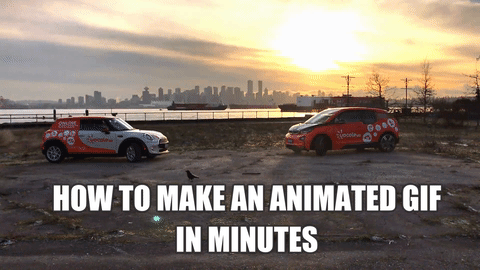 *we made this GIF with Giphy.com and posted it by adding the URL to the HTML5 video in the Advanced Options of sharing.